Консультация психолога.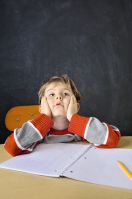 мой сын закончил первый класс. Весь учебный год он очень ленился, через силу делал домашние задания. Ни внушения, ни уговоры не помогали. Какие найти правильные слова и действия, чтобы в будущем учебном году эта проблема у нас не возникала?
Переход из детского сада в школу – это серьезные изменения в жизни любого ребенка. Все детки адаптируются по-разному, кому-то нужно больше времени и помощи взрослых. Выполнение домашнего задания требует, во-первых, умения планировать свое время, самоконтроля и мотивации учения. В вашем случае дело не в уговорах или правильных словах, а в том, чтобы помочь ребенку развить эти способности. Во-первых, начните уроки делать вместе. Договоритесь с сыном о времени, когда нужно садиться за уроки, например, после школы, когда он отдохнет и поиграет, спокойно и твердо придерживайтесь этого правила. Во время выполнения уроков помогайте малышу планировать, что сделать сначала, что оставить на потом. Чередуйте сложные и простые задания, делайте переменки, но четко соблюдайте время. Заканчивать лучше чем-то интересным, что получается и нравится мальчику. Поощряйте ребенка, если он сам сел за уроки хотя бы один раз за неделю. Ваша задача – создать у него позитивный настрой.
у нас в семье проблема: дочка постоянно жадничает. Не дает свои игрушки никому из гостей, в детском садике набирает себе множество игрушек и ни с кем не хочет делиться. Подскажите, в чем может быть причина такого поведения? Как с этим справиться?
До 3 лет это обычная ситуация, малыш постигает границы своего «Я», учится разделять «мое» и «чужое». Если ребенок старше, подобное поведение – это показатель психологического неблагополучия. Чтобы понять, что происходит, нужно знать вашу семейную ситуацию. Всегда ли девочка была такой, не связано ли это с каким-либо событием? Иногда дети реагируют так на рождение братика или сестрички, и жадность становится проявлением ревности. Также важно, как в семье относятся к личным вещам, позволено ли ребенку иметь что-то «свое», неприкосновенное. Есть ощущение, что ваша девочка, жадничая, на самом деле испытывает тревогу, как будто считает, что если кто-то возьмет ее игрушку, она к ней больше не вернется. Необходимо правильно установить причину такого поведения девочки, поэтому я бы рекомендовала вам обратиться к психологу.
как правильно разговаривать с ребенком о сексе и отвечать на вопрос «что такое секс»? Дочке 5 с половиной лет.
Все зависит от того, какие вопросы задает ваша девочка. Лучше не давать информации больше, чем спрашивает ребенок, так как в возрасте 5 лет он может быть еще не готов узнать больше. В 5 лет достаточно сказать, что сексом занимаются взрослые люди, которые любят друг друга, как мама и папа; что они делают это, потому что секс приятен, а также для того, чтобы родился ребеночек. Если будут дополнительные вопросы, лучше давать правдивую информацию, но адаптированную под возраст ребенка. Например: у мамы и у папы есть у каждого своя клеточка, и когда они занимаются сексом, эти клеточки соединяются и в животе у мамы начинает расти малыш, и т.д. Важно, чтобы в этом возрасте ребенок уже знал, что значит «интимное», какие части тела считаются интимными, что к ним не прикасаются без разрешения, никому не показывают. По мере взросления ребенка объяснения должны быть более подробными.
сыну 12 лет, месяц назад он стал молчаливым, замкнулся в себе. На родительском собрании я узнала, что он стал изгоем в классе, причин никто не называет. Что делать?
Для начала, конечно, необходимо выяснить причины, которые привели к такому поведению сына. Попробуйте поговорить с учительницей наедине, выяснить, что происходит в классе, с чего все началось, игнорируют ли ребенка или травят. Выясните, были ли в классе когда-либо до этого похожие ситуации с другими детьми. Если подобные нездоровые ситуации возникали в классе уже не раз, стоит подумать о переводе сына в другой класс. Возможно, ваш сын стал изгоем по причине какого-либо конфликта или ссоры между детьми. Часто изгоями становятся замкнутые дети, которым сложно защитить себя, отстоять свою точку зрения. Я бы рекомендовала консультацию психолога, так как эта проблема может повторяться. Конечно, надо поговорить с сыном, сказать ему, что в любом случае вы будете на его стороне и что бы ни случилась, будете защищать его.
Консультацию психолога можно получить по тел.: (495) 723-03-98
Комментарии
Open
22.12.2015 03:31

I much prefer inmivfatore articles like this to that high brow literature.

Jhonaiker
20.12.2015 10:52

You really saved my skin with this inionmatfor. Thanks! http://jmhmbgqjp.com [url=http://xbpxakacz.com]xbpxakacz[/url] [link=http://oissbcnfj.com]oissbcnfj[/link]

Aliyu
08.12.2015 04:58

I feel saifisted after reading that one.